3 Tips to Save on Holiday Gift Wrapping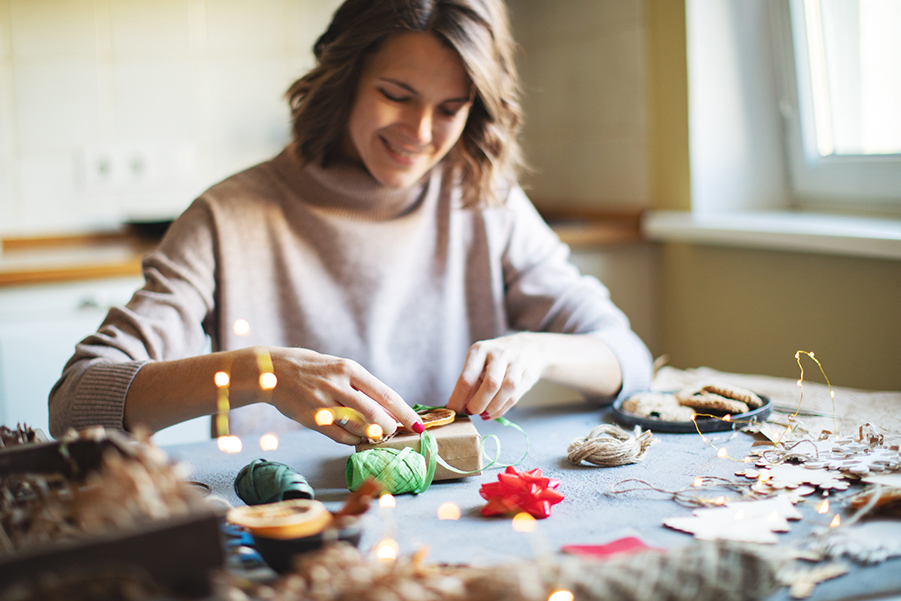 The holidays can really drain your wallet when you have a long shopping list of gifts. Now, add to that the cost of gift wrapping, gift tags, and holiday cards, and the cost of the season keeps going up.
In some years, people in the U.S. have spent a total of over $12 billion on gift wrap alone! Why spend money on store-bought giftwrap and bags? With so many creative and free options available, there's no reason to overspend for pretty presents.
And, while wrapping paper and gift bags can be expensive, they usually end up in the trash! If you're concerned about the environment, you probably know that most wrapping paper can't be recycled and will likely end up in a landfill.
So, if you're up for a little DIY-ing, we've compiled a few tips to make your holiday gift presentations beautiful without harming your bank account—or the environment.
Use brown paper bags as wrapping paper
The next time your grocer asks, "Paper or plastic?" choose paper, and start stocking up. You can collect plenty of these recyclable bags and help keep your wrapping paper costs to a minimum. Spice up the paper with stamps, stickers, or if you're artistic—add your own flair. Skip the ribbon and go for twine, for a rustic, natural look to packages. If you need some inspiration to get started, check out this article for some great grocery bag gift wrap ideas.
Reuse and recycle
Gift bags are the gift that keep on giving! Since you don't rip and tear them to get them open, you can reuse them year after year. If you have a stash from birthday parties or other gift-giving holidays, dig into your stash and update them with ribbons, stickers and bows. Plus, who doesn't like the convenience of a gift bag? It's quick and easy—especially if you're in a time crunch this holiday season.
Use last year's Christmas cards
Don't know what to do with last year's card collection? Cut off the front, punch a hole and you have an instant gift tag. When you're ready to get started with this DIY, here's a guide with step-by-step instructions to help.
And, if you're lucky enough to get some beautifully wrapped presents this year, remember you can also re-use and upcycle gift wrap that isn't recyclable. If you open your presents carefully enough, you can use it to help store fragile holiday décor, make book covers, or New Year's Eve confetti!
So, get your creative juices flowing and use what you already have at home to wrap up your gifts this holiday season. A little effort can save you a lot of money, and you'll feel good knowing you kept your gift wrapping eco-friendly!
Don't forget, if you have a Pocket360 account, you could be earning cash back rewards on your holiday shopping this year from merchants like Home Depot, Walmart, Kohl's, CVS, and thousands more! Learn more and get enrolled today!